Got a do? A shindig? A bash? A bonanza?
Putting on an event can be tricky, but we're taking one of the most complicated aspects – finding the right space – and making it easy.
Perhaps you're hosting a big karaoke night for your colleagues, or you require a classy music venue for some friends.
Whether you're looking for something specific, or need a little inspiration, we've got an eclectic collection that will help.
Visit HotPatch for the full selection of London event spaces, or check out our hand-picked Patches below.
Warehouse to Hire | Event Space in East London
Big Space is an industrial​ warehouse available for creative hire at an affordable price. It serves as a multi-purpose hireable space suitable for large-scale commercial or music and cultural events as well as film and photographic shoots.
With both indoor and outdoor space​,​ 24-hour access​,​ 42​,​225 sq ft of inside space​,​ 49​,​881 sq ft of car park space​,​ 22​,​202 sq ft of outdoor garden space​,​ 23m high ceilings​,​ and a staggering indoor capacity of 10​,​000​,​ there is nowhere else quite like it.
Heck, don't have a big event? Hire this one to read a book in for an hour. You do you.
Mezzanine Event Space Available in Hammersmith
The iconic 'Mission Hall' building has been a hub for the local community for over 120 years.
After years of closure​,​ the building has now been restored to its former glory​​ as a hub of creative combustion within the Brackenbury community. They are now on the look out for creatives, entrepreneurs, yogis and book-worms to collaborate within the space for any planned London events.
Cocktail Bar to Hire | Hire Event Space in Central London
A world class cocktail bar and late night party space available to hire.
A stunning bar​/​club area decked out in a luxe pop aesthetic themed around fun musical references — there's even a disco toilet to boot!
Some of the best cocktails in London are put together behind the bar by a crackteam of mixologists​, ​and there's a mouth watering menu of artisan pizza and tasty sharing plates to keep the stomach lined while you work your way through the drinks​/​songs menu.
In keeping with its location right in the heart of Chancery Lane​,​ this karaoke bar to hire specialises in corporate, as well as private, entertaining​. It​ offers a unique space for meetings and conferences, as well as full private hire for product launches​,​ press events or the yearly company blowout.
You can even book a special corporate team builder themed around cocktails​,​ karaoke and party games that makes for one of the most unique team bonding experiences in London.
Gallery Space To Hire in East London
A unique open space overlooking Regent's Canal for larger groups of up to 60 people.
Ideal for wellness events​,​ dining or drinks receptions​,​ board meetings​,​ team building sessions​,​workshops​,​ exhibitions or a product launch.
It is available for dry hire or food catered by Cafe Route​,​ serving a selection of mediterranean food to suit all tastes.
This space has numerous additional benefits including:
Dedicated events manager
Wi-Fi​,​ projector​,​ and speakers
Multiple seating options avaliable
Floor to ceiling windows with natural daylight overlooking Kingsland Basin
Fully licensed bar and catering services
Air conditioning
Zoom capabilities
5 minutewalk from Haggerston Overground and easy links from the City and East London
Elegant Music Room to Hire in Central London
Overlooking Bloomsbury Square​,​ this Music Room has already been host to many music recitals​,​ book launches​,​ lectures and performances.
It is the main exhibition space at PushkinHouse with some of their previous shows being featured in TimeOut​,​ The Guardian​,​ Evening Standard​,​ Creative Review and GQ.
The room boasts high windows that allow impressive natural light to flow through​,​ as well as original features​,​adding sophistication and refinement to any event.
---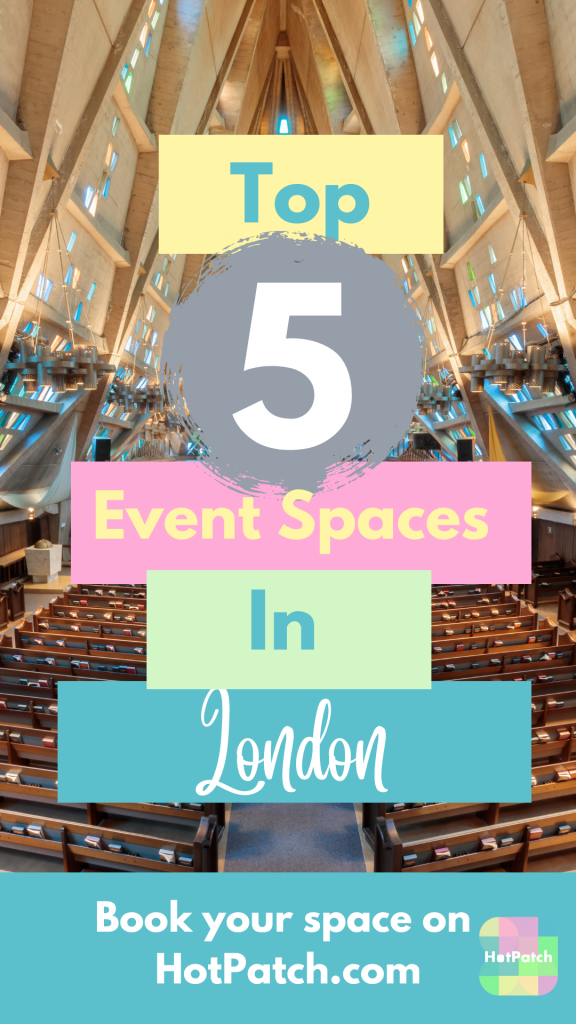 Looking for more event spaces near me? Or for general event spaces to rent in London?
Use HotPatch to browse a full selection today. Or, if you're looking to make money from your own event space, you can list with us too. They don't need to be as enormous, or as fancy. A Patch is what you make of it.
For any further questions, please do reach out to us in the comments below, online or on our social media channels:
Instagram: @HotPatch_ | Twitter: @HotPatch_ | Linkedin: HotPatch