Toks' Photo Studio to Rent
We recently talked about how important it is for photographers to find the right space to shoot in, and how sometimes the best place for your shoot is in a unique environment like a boxing ring. This time, let's zoom in on one of the many photo studios available to rent on HotPatch, from the perspective of its Host.
Toks is the owner of Corridor Studio who rents out the space, with its many the bells and whistles, via HotPatch. You can take a look at his photo studio available to rent right here.
We spoke with Toks about his Patch, shooting experiences, and advice for other photographers.
---
Tell us a little about yourself, and what led you to establish Corridor Studio.
I worked in the creative industries for many years supporting diverse artists and small businesses'. But I started on the other side of my desk as an artist /artist manager. As a creative polymath photography became one my skills.
Taking pictures of my artists originally ignited my interest in photography and it ultimately became a professional hobby. My friend and business partner is also a photographer, and music publisher, and our friendship helped sustain our interest in imagery over the years.
What have been some of the challenges of building and fully kitting out a photography studio?
When I started building the studio – literally – Covid had just hit. It was almost a death blow for us as we had to carry the studio costs for about 18 months on and off. With all that downtime however I decided to build the studio from scratch. I'm good at DIY but nothing prepared me for plastering an infinity cove, believe me! You can see images of the step by step build on our IG account.
My partner and I decided we'd start by pouring in our personal photographic arsenal and then building up from there. We had to make cost considerations all the way down the line, so it was no to that £3.5k flash head and yes to four equivalents for the same price. As photographers we knew which corners to cut while keeping a pro-level studio.
What has been the greatest highlight of running the business so far?
By far the greatest highlight has been our clients. It is so satisfying to see people walk into the studio and say "wow!". Despite our very best efforts, our studio images do not prepare you for the true experience of the space.
Watching people create in a space you yourself created is a real buzz and while we do have clients like Wonderland magazine, we have deliberately kept our prices low to allow new and newish photographers the opportunity to use a space like ours as their first time in a commercial studio.
How has your background in photography helped inform the running of your own business?
One key point we've learnt over the years is that professional equipment does not mean you're a professional photographer. What you need is a place to practice alongside opportunities to learn.
We offer an introductory session to using our studio for those who have never used a space like ours before, half an hour or an hour before their shoot. We plan to run full-on classes in the future.
What would you say is the main draw of Corridor Studio?
Without a doubt our 12x12x12 infinity cove and our pantograph (ceiling rig), followed closely by our rates. There is literally nowhere offering our prices for our studio type in London.
What are some of the biggest lessons you've learned from being a studio-owner?
All the standard small business tropes apply but it really depends on what you want your business to be. If we trudge in from the hinterlands though I'd say that you have to start this kind of business by being a photographer and if not that, start by loving imagery. Everything is easier if you know and love what you do.
What are your hopes for the future of Corridor Studio? Any ideas for expansion?
Our ideas for Corridor have always been limited by space. We packed so many angles and background types into the studio but ultimately there were things we would love to offer which we just couldn't. The plan is to open a larger studio once we have this one running at full capacity, giving us the option to support larger projects.
As a photographer yourself, what type of photography do you specialise in?
At my core I am a portraitist although using the studio regularly has sparked my interest in more editorial work. My business partner is harder to nail down, he is also a portraitist but with a heavy 'live art' styled approach.
Can you tell us what some of your most rewarding shots were?
That's a tough question when you have been shooting as long as we have! The real answer is "the next one" which is less trite as access to the studio is improving my work day to day.
But I was shooting New Faces for Premier many years back and at the very end of the day while walking back down Brick Lane I grabbed a shot of one of the models in Black and White that was better than anything I'd managed with the whole team that day… for me at least lol.
My partner says he was shooting Lady Isabella Hervey in a little barber shop in Peckham and snatched a shot of her lying across some well worn Barber Chairs and I'd agree, it is truly an iconic shot.
Why do you use HotPatch to rent out your studio?
As well as hopefully showering us with new clients, they are also a seriously cool outfit, so we just can't help ourselves I guess!
---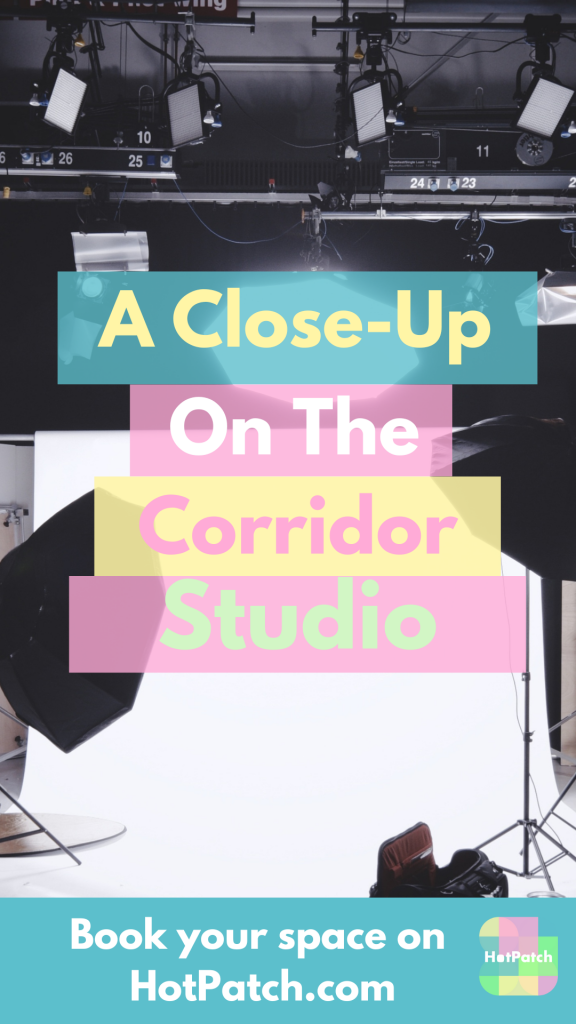 Looking for a photo studio to rent yourself? Toks has just the place for you.
Or, do you have a studio like Corridor that you want to put into focus? You can list it with ease right here.
If you want to check out even more photography-prepped Patches, HotPatch has studios to rent in London, Manchester, and elsewhere across the country.
For any further questions, please do reach out to us in the comments below, online or on our social media channels:
Instagram: @HotPatch_ | Twitter: @HotPatch_ | Linkedin: HotPatch