When starting, where do you start?

That's the question that's often on the mind of entrepreneurs in the dawn of building a new business. Where does the business get built?

The real answer is often; anywhere you can. In cafes, in coffee shops, in the cubicles between meetings at the job you're desperately trying to get out of. You cobble it together anywhere that's available.

However, soon the tipping point comes, where the corner of a crowded room won't do the trick. You need to find somewhere better.
The right space can change your work. It can alter how you feel. It can give you, and your team a moment to see things a little differently. It's certainly easy enough to get a little cabin fever from that same old office, or that same old home study.

Sometimes your work needs a bit of reinventing. So why not try somewhere different? And in trying somewhere different, why not try somewhere really different?
---
HotPatch hosts the most unique hot-spots, and allows you to book almost any kind of space in seconds, all over London.

We've collated our top 9 best and most unique workspaces, from churches to traditional 18th century townhouses.

Whether you need a small space to type up a spreadsheet in peace, or something grander for your first big team-meetings, there's all sorts to discover – and these uncommon workspaces in London might just be the inspiration you need.
South Kensington // Fits 20 // £200 per day
With all of the perks of working in a library, with none of the rules on whispering, this secluded coworking space acts as the ideal location for any manner of business meeting, training session, or workshops alike. Where better to enforce workplace culture, than in the most cultured workplace possible?
London Fields, Hackney // Fits 5 // £30 per day
This space is filled with natural light and, as if to prove that fact, a lot of lush greenery. Combined with the vintage furniture and a selection of different workspaces, it makes a very homely environment for work, discussion, or a nice team lunch. Plant yourself onto an old-school seat and let your ideas grow in the sunlight.
West London // Fits 40 // £750 per day
Step into the 18th century in this beautiful Georgian townhouse. Spacious, and brilliantly well-lit, the room proves itself an excellent meeting or boardroom. Originally built as a private home, the building includes an exhibition space, an events room and a room that's ideal for private dinners.

Run a business of chimney sweeps, loom weavers, and blacksmiths? More likely, perhaps you're looking to see what some of the fancier workspaces in London are like? Then this Georgian townhouse will make you feel right at home, at last!
Regents Canal // Fits 15 // £800 per day
Kings Cross // No person limit // £10 per day
Finding somewhere good to spend your lunch break in a hurry is no issue when you're working out of a fully-stocked cafe and bar. This affordable space is lined with practical seating for teams both big and small, with breakfast to lunch service suiting all workers from early birds to night owls. Whether you're a 'Don't talk to me until I've had my coffee' person or maybe even a 'Don't talk to me until I've had my mohito' person, this spot has you sorted.
Hammersmith // Fits 20 // £84 per hour
Located in a repurposed church, this mezzanine event space sits directly opposite a quiet eco-area, kitted with a hammock and swinging chair, ideal for focussed work, or a sit-out. The building itself is designed as a 'hub of creative combustion,' which is swiftly unifying a vibrant community in East London. The Mezzanine event space holds up to 20, and has on offer in the building, a kitchen, meeting rooms, showers, and other available amenities.
East London // Fits 15 // £320 per day
'Quirky' is an understatement. Located in an old church, this 'safari room' (as all churches have, right?) includes a number of velvet chairs, a projector and sound system, kitchen access, and a wall-height George Stubbs painting. The atypical nature of this space could be just what you need to free yourself of outside-world distractions when working.
West London // Fits 45 // £750 a day
This intimate library space (librarian not included) serves as an inviting spot, for smaller talks, meetings, receptions and even press conferences. Or, off-the-top of my head, a nice place for a book club, too? This is one of the most charming workspaces in central London, and can be easily rearranged into a number of styles, from cabaret and theatre seating, to the traditional boardroom or classroom arrangement.
Whitechapel // Fits 40 // £850 per day
For startups with a big team (or big dreams), this Whitechapel venue is a floor full of workspaces, both mental and physical. Spread your business out across the desks and tables, all lit up by floor-to-ceiling windows and accompanied by a cafe for refreshments. When you're finished working your brain, you can work your muscles too with free access to the neighbouring gym space.
---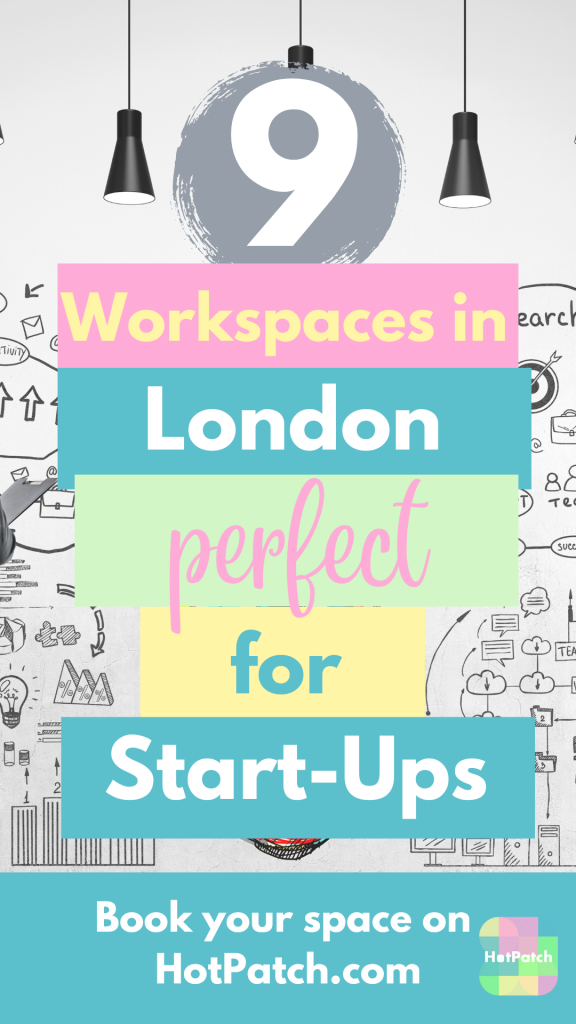 A you part of a London businesses that needs to get its foot in the door?
HotPatch has public and private workspaces all around the country for you and your team to work smarter and better. Want to see a wider selection of pay-as-you-go workspaces in London? Check our site.
For any further questions, please do reach out to us in the comments below, online or on our social media channels:
Instagram: @HotPatch_ | Twitter: @HotPatch_ | Linkedin: HotPatch