If you're one of the increasing number of people who want the world to hear you talk to your friends/self about politics and/or breakfast, then you might not want to jump in head-first with buying all the necessary gear for a high-quality podcast. If podcast equipment rental doesn't work for you, why not hire the whole podcast studio with HotPatch?
We have a number of podcast rental spaces available all over London. Here is just a handful for you to peruse!
If you want to rent a podcast studio that has a comfy layout, top-tier microphones and snazzy blue walls, this studio is your best bet.

Thanks to the mood lighting and modular furniture​,​ this room can seamlessly blend from DJ studio to atmospheric podcast recording space. It is a comfortable space to record or film interesting conversations and engaging content.
A comfy four-person setup, perfect for you and the other 3 members of your cult! Normal lighting is available too.
You've heard of soundproofing, now get ready for sounddenying! These walls are are miles more effective at blocking out noise than your standard foam pads!
While primarily a solo studio, this Podcast Studio to Rent in BishopsgateTM has plenty of room for a group to join the conversation too.
This Patch's host may not know how to take horizontal photos, but they most certainly know how to deck out a studio with all the podcast recording equipment one could need! The studio also has professional lighting tools for the most atmospheric podcast you could ever desire!
Spend 5 minutes recording your podcast and then spend 55 minutes staring at the monkey picture.
---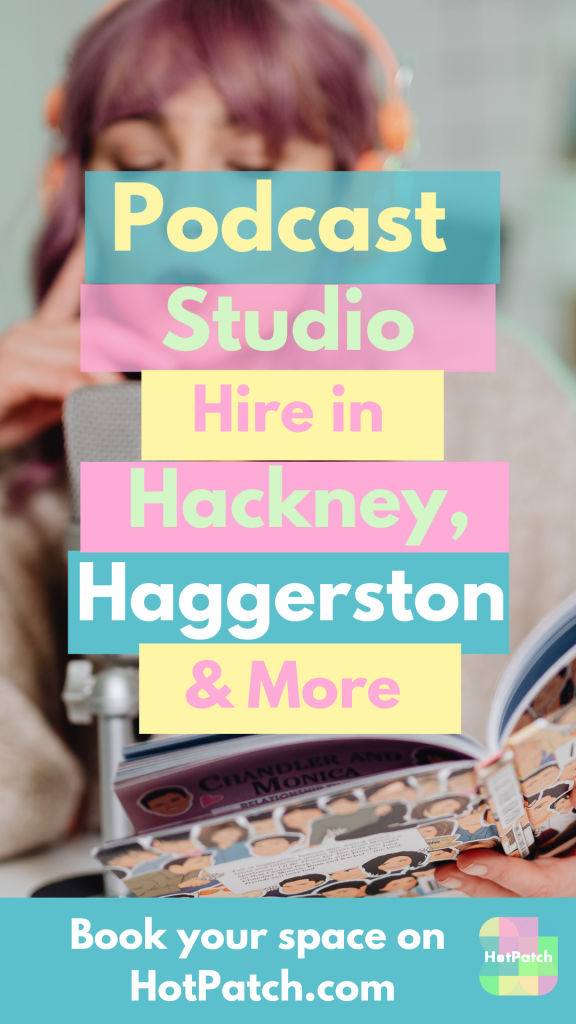 See a Patch you like? HotPatch has even more podcast and music studios available to rent. You can find everything pictured above and more here on our website.
Are you looking for podcast studio hire, or do you want to rent out your own studio? You can find or list space in seconds at HotPatch.com.
Perhaps you've just gone on google and searched 'podcast studio rental near me', and by chance have found your way to our blog? We have many more blogs about our spaces and the cool stuff people get up to in them!
For any further questions, please reach out to us in the comments below, online or on our social media channels:
Instagram: @HotPatch_ | Twitter: @HotPatch_ | Linkedin: HotPatch