Katch-up with Katie
HotPatch caught up with the wonderfully talented Katie from @kontouredbykatie, a freelance beauty professional based in Bridgend, Wales.
We collaborated with Katie back in June 2020, with @kontouredbykatie producing some amazing HotPatch nail sets. We thought we would have a chat with her and learn more about her journey into the beauty industry, building her business, coping through lockdown, and plans for the future.
How long have you been working as a professional in the beauty industry?
I have been in the beauty industry for 6 years now. It has been such an amazing journey and I'm so proud of how far I have come.
Can you describe your journey to becoming a freelance professional?
The opportunity for me to start my own business started just 2 years ago when I saw an ad in my area for a freelance makeup artist. I had always wanted to be my own boss and be creative in my own ways. I had previously worked in a salon, but I knew I was ready to take the next step.
With 6 years of experience behind me, I felt it was the right time to put all my hard work into the future I had dreamed of, and I couldn't be happier where I am! I rent a space in a salon that is literally 5 minutes away from my home, so even more of a bonus! My business has grown strength to strength since I started in 2019.
How did you initially discover HotPatch?
I first noticed HotPatch on Instagram (@hotpatch_), and we got chatting, discussing their fantastic Patches, services, and ideas. I ended up helping out with a marketing idea of a set of custom HotPatch nails! I made 3 custom sets and sent them over. They have always been so supportive and helpful with any questions I had and always hyping up my business page with the best support!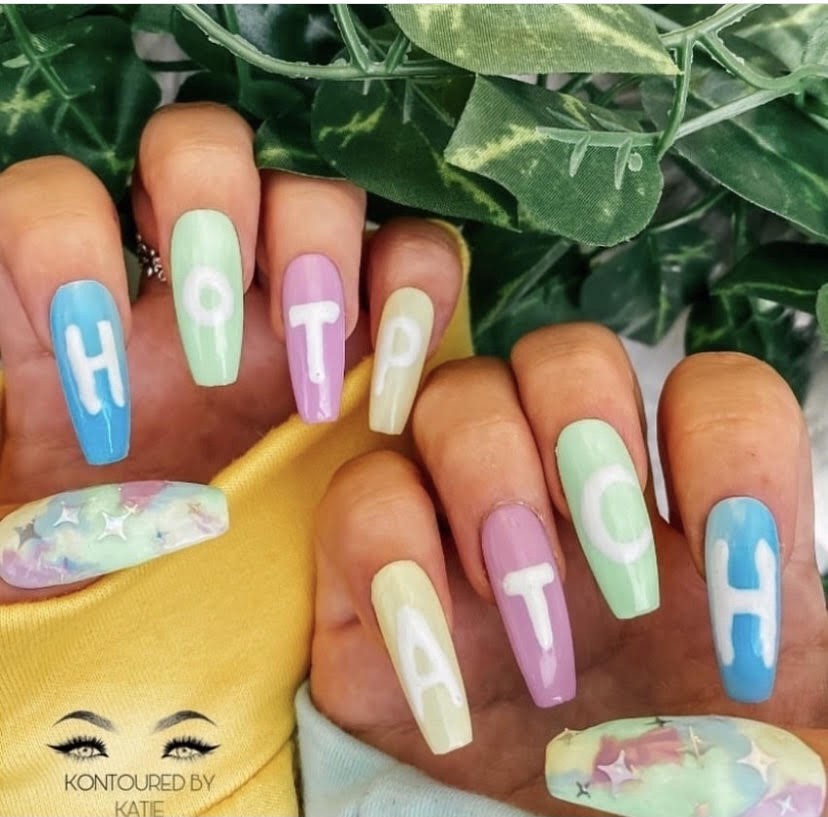 Where do you work from? What do you look for when looking for a space to work from?
I currently rent a space in a salon in my hometown. I have my own beauty room / makeup station / nail desk. The owner went above and beyond to help me start my business. The business grew so much that it expanded next door to accommodate all the clients and therapists needs! It's such an amazing place to be. The salon was just what I was looking for and the owner was the best support system in helping me get on my feet. We really are the best of friends now and I wouldn't have it any other way.
When I was looking for a space to rent, I knew that I wanted somewhere close to home, friendly, had the space I needed, somewhere I knew my clients would love to visit, and that it was a safe space for my clients as they are my family.
What has lockdown meant for you and your business? Do you have any advice for coping with the lockdowns for other freelance professionals in a similar situation?
Lockdown has been extremely tough for me along with many others. I will always remember my last working day in March 2020, packing my belongings up and making a joke to the owner, "I'll see you in 2 weeks!" Little did I know we wouldn't see each other until July! I had worked since the age of 15 and had never been off work. I didn't know what to do!
I took my time to plan how I could improve my business, researched further training, and the very boring part of sorting my books out. I then decided to take the plunge into offering press on nails to try and make some extra money to help with bills and to help my clients have fantastic nails in the comfort and safety of their own home. It was a hit and I loved being creative again!
My advice would be to always try and remain positive and think of ways to keep your page active and keep in touch with your clients! I found they loved seeing what I'd be getting up to, whether it be me upcycling furniture or that time I learned to bake… it really wasn't for me! But most importantly, remember, we're all in this together!
You deliver a vast and impressive range of health and beauty treatments, from brow lamination to reflexology and all in between. What do you most enjoy practising?
I get this a lot when people look through my treatment list. I enjoy adding new, exciting treatments for my clients and to make sure I am constantly learning!
My aim is to make people feel good about themselves, whether that be having some date night nails or a treatment of reflexology and unwinding. If I had to choose my favourite treatment it would probably be either nails or brows, but I have to be honest, I love it all and it is hard to decide. There isn't any treatment I dislike. As long as the client walks out with a spectacular treatment /service and is feeling good about themselves, I know I've done my job!
What's next for you?
I have big plans for @kontouredbykatie, including goals for this year and a ten-year goal. I will be adding lots of new, exciting treatments to my list and expanding my business and growing my social media following! A long-term goal is that I'd love to bring out my own product one day! So, here's to the future!
Want to chat to us about what you have been up to during Lockdown or see more of Katie's awesome work?
Reach out to us online or on our social media channels:
Instagram: @HotPatch_ | Twitter: @HotPatch_ | Linkedin: HotPatch